2018
SANDSTONE RANCH – April 17th
On Tuesday, April 17th, eight energetic ladies met at Sandstone Ranch to work their magic.  All of the flower beds surrounding the  house and adjacent to the house were cleared of old foliage.  They also removed plants and weeds that were not wanted and relocated plants to better locations.  The xeriscape garden under went a spring cleaning and part of the lawn was raked.  The ladies had a productive morning before the wind over took the Longmont area.
During the Hoe and Hope volunteers activities out at the Sandstone Ranch, they found one of our tiles that garden club members painted  at one of our members home back in January 2014.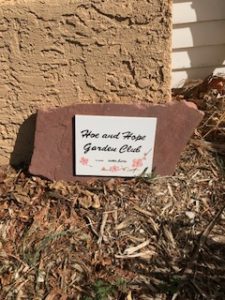 OUR CENTER – April 16th
I t was a beautiful Monday morning when 10 Hoe & Hope Garden Club members went to the Our Center in Longmont, Co. to help plant seeds in a portion of their vegetable garden. We planted snap peas, spinach, onions and radishes. We were done in about an hour. When these garden club members get going, they get going!  At the end of May, we will help put in tomatoes plants.
RMNP Civic Project – April 3rd
Ruth , Sandy , Janell , Ann Marie, Jennifer , Robin , Kathy , and Carla  (left to right) were given the goal to transplant 600 Deschampsia cespitosa seedlings (aka grass seedlings).  We were given the flat of seedlings, instructions  from Sage (see that tiny seedling), and then got right to work.  Four hours later—MISSION ACCOMPLISHED!  These will eventually be planted at a disturbed area at Sprague Lake.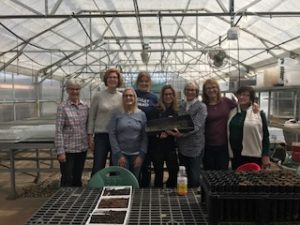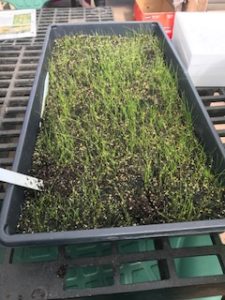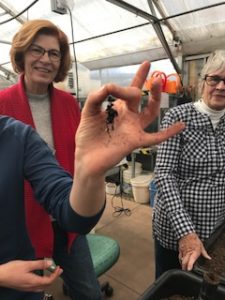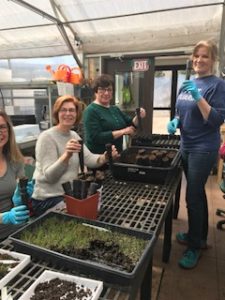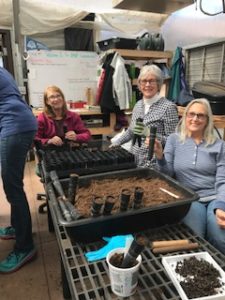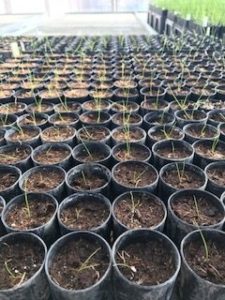 Growing Gardens in Boulder – March 20th 
We came, we saw, we planted bunches and bunches of flats with vegetable seeds so we also conquered.  Sure some seeds were so tiny that a person wished they had brought reading glasses but all in all a fine time was had.  We planted and chatted and planted some more.  We wandered the greenhouse to admire all the sprouting seedlings. If you would like to purchase some wonderful plant and veggie starts the Growing Gardens plant sale takes place at the greenhouse 1630 Hawthorn Ave., Boulder on the first three weekends in May from 8:00am – 4:00pm.  Oh, and then there was the reward at the end of our project – coffee and pastries at Lucky's!  Yum!
2017
Hello Gardeners, the most exciting time of the year…. Spring……YEA!
A few of us spent a few hours at Sandstone Ranch on Thursday, May 4th removing Yarrow from the flowerbed on the south side of the little house, we're not finished yet. Our next outing at Sandstone is Tuesday the 30th, if you have dug up extra flowers, especially fall color flowers bring them with you when you come or to the plant exchange and I can take them on the 30th. Be sure to bring your gloves, spades and lots of water.
The YMCA Growing Gardens work day is set for Tuesday the 16th at 9:00 am and as usual bring your gloves, spades/little shovels and lots of water, very little shade there. We must sign in and can do it online @www.growinggardens.org or can "paper sign up" when we get there.
Linda English