By Linda Patten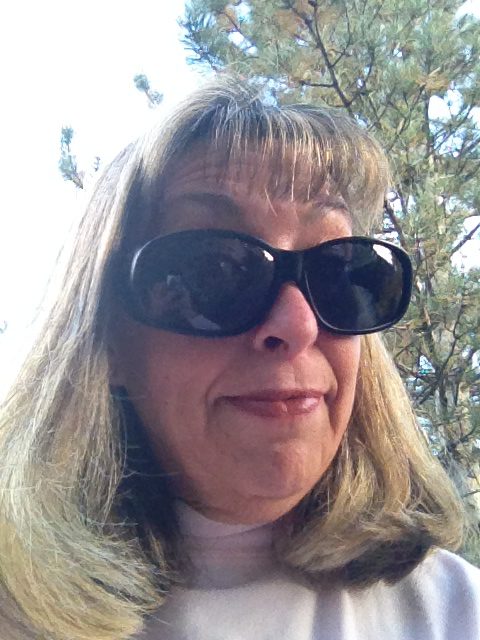 January 2020
Sure, it's easy to make resolutions for the new year… I will exercise at least three time a week… giggle… I will limit my ice cream intake to once a month…  hee hee, are you kidding!… I will not add any more kitty cats to the household… ummm, maybe…  but have you thought about making resolutions to yourself about gardening?
Here is an easy guide to get you started!
Invite a friend to garden club.
Invite a friend or neighbor to share your love of gardening by bringing them to a club meeting.  You can also invite a friend to help with one of our community projects… it's a great way to get to know our club members!  Gardening together with friends is a delight!
Try a new annual or perennial in your garden.
The lovely orange tassel flower will be added to my container planting as a fun accent.  This little cutie was spotted at the Denver Botanic Garden at Chatfield last summer adorning planters along a bridge.  They are adorable!  I was able to identify the tassel flower using my new plant finder app on the phone… which leads us to the next resolution…
Make your smart phone smarter.
Add a plant identifier app to your phone.  There are many good free ones.  This has been found to be incredibly useful and one wonders how one managed to go through life prior to adding this marvel!  I use "Picture This" on my iPhone but ask around and see who is using what.  Don't' be scared… if you ask a young person to help you with this, they will be thrilled!
Install a Native Bee House.
Let's face it with all that is going on environmentally, the bees could use a life-line.  Many native bee houses are available for sale but making your own is quite easy… and possibly fun… and if you enjoy drilling, really fun!  Plans for building can be found at https://www.beyondpesticides.org/programs/bee-protective-pollinators-and-pesticides/pollinator-curriculum/build-your-own-native-bee-house   Copy and paste the underlined address into your browser. After you have built your bee house, be sure to set it facing east to be warmed by the morning sun.  The bee house will also need to be protected from afternoon sun.
Plant at least one native plant.
Natives, be they flowers, shrubs or trees, are adapted to your particular soil and climate. They are easy to grow without benefit of pesticides or fertilizer, and they require little supplemental water. Native plants also provide critical habitat for birds and beneficial insect that have co-evolved in the same area.  The native bees will love you…see above…  A web tool recently launched by the National Wildlife Federation makes it easy to discover which indigenous plant species are the very best at supporting the insects that drive local food webs. Simply enter your zip code for a ranked list of the plants in your county that produce the most caterpillars and thus support the most wildlife. Copy and paste in your browser:  https://www.nwf.org/nativeplantfinder/plants
Plant at least one flower for the bees.
As their numbers are dropping rapidly due to pesticides, climate change, parasites and other factors. Bee-friendly plants include bee balm, crocus, salvia, zinnia, allium, poppy, cosmos, sedum and countless others. Bees also appreciate herbs like rosemary, chives, thyme, lavender, borage. If possible, provide plants that bloom in spring, summer and fall.  All the bees will love you…see above, above.  One plant adored by bees at my house was basil.  I planted basil as part of my contain gardens last summer and let one of the plants bloom – wow! – constantly covered with happy, happy bees.
Leave grass clippings on your lawn and keep them out of the landfill.
As they deteriorate, leaves improve the soil and provide nitrogen, phosphorus and potassium without expensive chemical fertilizers. Think of the time you'll save by eliminating raking and bagging… And all these years of thinking my husband was just being lazy!  Now I know that he is just being smart!  I guess maybe I owe him an apology…
Try your hand at saving seeds for next year.
Harvest a few from dry, wilted blooms at the end of the season and you'll have seeds to plant in spring with plenty left over for sharing with friends.  The best part is that the seeds are free!  A word of caution, hybridized seeds may not grow true to the parent plant.  Although you can save seeds from nearly any plant (including vegetables), easy candidates for beginning seed savers include coneflower, black-eyed Susan, sunflower, marigold, morning glory, nasturtium, snapdragon or poppy.  Store the harvested seed in a paper envelope.  Be sure to label the seed including variety and year harvested… do not be like me with several saved envelopes of "Mystery Seeds".
Go on a gardening tour or excursion.
It's lots of fun to go visit someone else's garden and appreciate the fruits of their labors.  We are fortunate in our area to have many garden tours available with-in a short drive.  Longmont, Fort Collins, Loveland and Boulder all have fantastic garden tours upon which to view and ponder over.  Dates of local garden tours can be found by typing Northern Colorado Gardening Events into your browser.  You can also broaden your horizons with a trip to a local botanical garden or arboretum this year. Highly recommended are The Gardens at Spring Creek in Fort Collins.  Many new gardens were added last summer and if you enjoy cold hardy cacti and native plantings, these new gardens are a must see.
And last but not least… and the scariest one of all… Invite friends over to spend time in your garden.
Please don't stress about your garden being perfect. While many hours are spent toiling away in our gardens, let's resolve to make it more of a priority to simply enjoy gardens.  With bees buzzing, birds chirping, and gentle breezes wafting odiferously, carrying the scent of a thousand blossoms… it's time to invite some friends over to enjoy your garden!  With insects eating your roses, the dog digging up your favorite flower, and smoke from your neighbor's grill rolling over the fence… it's still time to invite some friends over to enjoy your garden… who knows, they may bring wine and perhaps pull a weed while you're not looking!