2019 Field Trips – Don't miss the fun!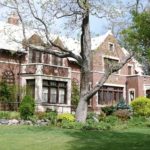 Step back in time as our trained costumed docents guide you through this beautiful historic mansion built by Charles L. Hover in 1913-1914. As you tour this historic home, you will learn about the life and legacy of Charles Hover, his wife Katherine, adopted daughter Beatrice, and the beautiful home they left behind for their community.
At Hoverhome, docents serve as tour guides, dressed in period-vintage costumes. They lead visitors through the elegant home and formal gardens during public and private scheduled events. The house is also available for rental for weddings, parties, day retreats, luncheons or other special occasions.
Unlike other historic homes, in which visitors can look but not touch and must peer into the roped-off areas, guests at Hoverhome can sit and touch and experience the feel of the house. The tour of the over 6,000 square foot home is full of historical information about Charles Hover and his family and life in Longmont and Boulder County in the early 1900s.
We will be joining in on the 3pm public tour, which lasts about an hour. Fees are $8.00 per person at the door. All tour fees and donations assist The St. Vrain Historical Society in the continued care and preservation of Hoverhome.
Historic Hoverhome, located at 1309 Hover Road in Longmont, Colorado is an elegant 1914 English Tudor, Gothic Revival home. The home is on the National Register as a Historic Landmark.
Everyone please meet at the Kohl's parking lot (near the Chili's) at 2:30pm to carpool, for the reason of limited parking at the Hoverhome. Sign up at the next meeting to let us know your intent to attend or by emailing Jennifer.
2019 Hoe and Hope Garden Club Events
On June 5th club members enjoyed a wildflower hike on Bald Mountain. Bald Mountain is an easy one mile loop with fantastic vistas to the east and west.  Our hike was lead by nature expert Robin E.   A wonderful learning experience! Photographs courtesy of Barb Roper.
May 11th was the Plains Conservation Center Wagon Tour. The Hoe & Hope Garden Club members got to see how people lived out on the eastern Colorado plains years ago.
2018 Hoe and Hope Garden Club Events   
On Dec 12th Hoe & Hope Garden Club had their annual Christmas Luncheon at  the Element Bistro in Gunbarrel . Good food and great fun  was had by all.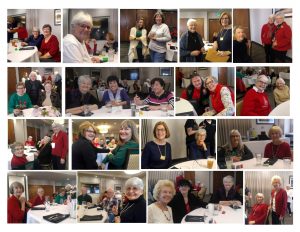 Annual Hoe and Hope Flower Show…
On July 25th, The Hoe and Hope Garden Club had their annual flower show. Members of the club brought their beautiful bouquets and very clever arrangement to the meeting. The entries were then placed in  different categories that fit them best. Everyone viewed each entry and then voted on the ones they thought should win for each of the categories.
On February 15th, The Hoe and Hope Garden Club took a field trip to the CU Boulder Museum of Natural History. We all enjoyed the collection of dinosaur bones found locally.  Our area was once an ocean.  It's pretty amazing to see sea shell fossils and the ancient bones of water dwelling creatures.  The duck billed dinosaur head and foot casting was huge…maybe a good thing humans did not live during the same time!  The museum also has a wonderful display of pottery from the southwest area of our state.  After viewing the artifacts we walked over and had a fabulous lunch on the hill and managed to make it back to the car before we got a parking ticket!
On January 17th, Georgia , Ann and Bob, Debbie and Robin spent a delightful morning at the Butterfly Pavilion. Georgia bravely held Rosie the tarantula!  The butterflies and tropical plants were gorgeous—a wonderful respite from winter.
2017
NOAA  Fall Field Trip  
Attending were Judy,  Anne-marie, Georgia, Sandy, and Debbie from the club.  Other guests included Lloyd, Robert, and Ryan.  All reported that the tour was very informative.
June Field Trip to Jerry's Rock Gardens
In March, club members were treated to a talk on rock gardening by guest speaker Jerry Vaughn, a member of the Northern Colorado Rock Garden Society.
In June, members were invited to tour his gardens.
Field Trip to Fantasy Orchids 
Orchid lovers in Hoe and Hope Garden Club recently visited Fantasy Orchids in Louisville, Colorado.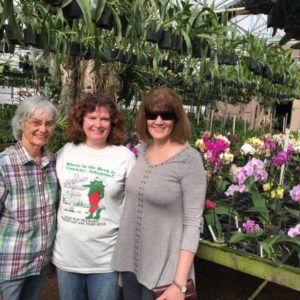 At any time Fantasy Orchids has 300 to 500 orchids in flower or within a few weeks of flowering. They carry hundreds of different types of orchids, so there is always a great selection of budded plants. If you would like to take a virtual tour of their facilities, visit the following link and scroll down to the bottom of the page.  Fantasy Orchids
February field trip to Longmont's Cheese Importers
A group of Hoe &Hope Garden Club members went to the Cheese Importers located in Longmont. They had a wonderful time sampling the cheeses and touring the business. When they were done they had lunch right there in the Cheese Importers restaurant.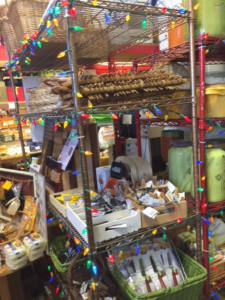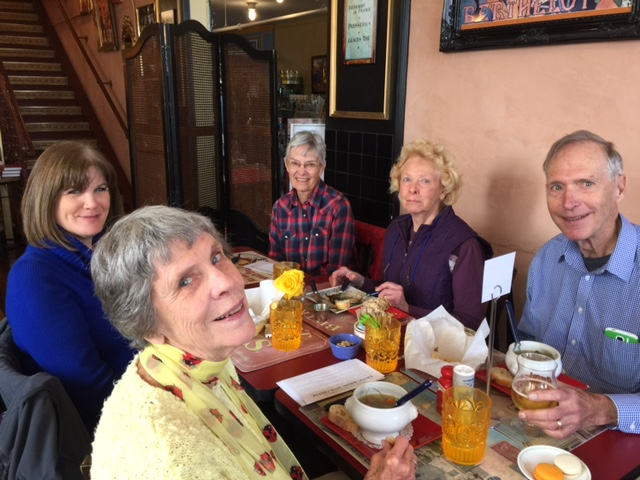 2016
September Tour to CSU Annual Test Gardens in Fort Collins
The Annual Test Gardens at CSU Fort Collins are a delight to all the senses!  Planted in early spring and cared for by CSU grad students the plants thrive.  Awards are given in August to top performing plants.  The plants must bloom prolifically and mound well along with a variety of other criteria.  Shade as well as sun annuals are part of the test garden.  There is also limited vegetable testing done – most of these plants are grown in containers.  The day was gorgeous as were the gardens and a fine time was had by all!
August Flower Show
Beautiful flowers artfully arranged – some quite cleverly! – were displayed at the annual flower show.  Creative vegetable arrangements were also part of the show.  Prior to the show, a delicious potluck featuring food frown from our gardens was enjoyed.  Best meeting of the year!
May Plant Exchange
A warm sunny morning enticed a great turn out for our annual plant exchange.  Members brought starts, transplants, house plants, gardening books, containers and a multitude of other garden related items.   Visitors of the Patten Estate Garden enjoyed viewing the many, many, many, shade garden plants, (Heuchera heaven!), along with the few token lovelies for the sun.   Most everyone left with a new plant or two or three… A lucky Hoe and Hoper, Judy, even won two door prizes!  It was a wonderful morning!
May
We met our tour guide at Monkey Island to begin our tour of the greenhouses at the Denver zoo.  We began our tour behind the scenes by walking next to a couple of historic buildings and a very quite female gorilla.  Many of the zoo greenhouses are used by the City of Denver to plant annuals and grow out cuttings that are planted at local parks.  The zoo uses several greenhouses to keep their extensive tropical succulent collections.  Many of the everyday chores at the greenhouses are done by Master Gardener volunteers.  There was much excitement when it was discovered that tropical plants found in a trash can were offered to be taken home by many of our zealous Hoe and Hope gardeners!
April
A beautiful spring morning greeted members of Hoe and Hope on their April field trip to tour Gulley's nursery in Fort Collins.   Gulley's has a huge wholesale business with greenhouses full of blooming annuals and perennials waiting to be delivered to supply other local nursery's with a great selection of plants.  They also design and plant containers that will be delivered to adorn mountain towns throughout the summer such as Vail and Keystone.  Gulley's retail business is just the cherry on top grossing over a million dollars per year.  Gulley's retail business offers annuals, perennials, shrubs, trees and excels at offering fun fairy garden plants and all the accessories that make the hobby so much fun.  They also give classes and have fun special events during the year.  Be sure to add yourself to their mailing list to keep informed as to their sales and events.
https://www.gulleygreenhouse.com/
January
We turned our January blues into a kaleidoscope of colors by visiting the Denver Botanic Gardens orchid show. We enjoyed the tropical splendor of the Orangery and the Conservatory. The orchids were stunning and we even found some chocolate pods growing on a tree! We enjoyed lunch on site and of course there was some retail therapy done at the gift shop.
2015
Annual Harvest Potluck and Flower Show – August Meeting
The potluck luncheon showcases a variety home-grow produce in delicious recipes.  The flower show has members bringing unusual or spectacular flowers to enter in a variety of categories along with garden-grown vegetables for a friendly competition.  Floral designs are also featured at the show.
Gayle's Farm – July Meeting
Gayle's farm is a heritage homestead.  The club enjoyed her beautiful shaded yard and many sunny gardens.  Several members took a lovely stroll out to the ponds to bird watch and enjoy the scenery.
Heritage Lavender Farm Tour – Berthoud
Nested near the quiet garden spot of Berthoud, Colorado, Heritage Lavender is home to over 30 different varieties of lavender. Whether you're looking for a bundle of lavender sprigs or a handful of culinary lavender, the selections will be sure to fit your needs.  The small one acre market garden is currently growing nearly 600 lavender plants, in addition to a cutting garden, herb garden, and kitchen garden.
To visit Heritage Lavender click here.
Erickson Garden Tour – Gaynor Lake
A masterpiece in design, this garden features beautiful art as well as lovely private spaces to enjoy the spectacular views. It is always a joy to visit this garden!
Peony Garden Tour – Estes Park
Who knew that over 200 peony bushes would thrive and bloom at an altitude of 7,500 feet?  We enjoyed the colorful blossoms and winding paths in this unusual mountain garden.
Annual Plant Exchange at Linda's – May meeting
Seeds, annuals, perennials and garden paraphernalia are happily exchanged at this popular event.  Members are awarded shopping points for each item they bring to the exchange.  These points are the "budget" they can then use for their shopping adventure.  The garden where this all takes place features over 200 varieties of Heuchera.
World Seed Bank Tour – Fort Collins
The National Seed Storage Laboratory, is part of the National Center for Genetic Resources Preservation.  The facility stores samples in conventional storage at -18° C and cryogenic storage using liquid nitrogen at -196° C (-160° C in the vapor phase). Storage method is determined by the type of seed, the size of the seed, the number of seeds in the sample, the viability of the sample, and sometimes the instructions from the donor.
Rebecca's Herbal Apothecary & Store Tour – Boulder
Founded by Rebecca Luna in 2004, Rebecca's Herbal Apothecary & Supply is a bustling, community, retail store aiming to provide everything one needs to use or make botanical medicines.
To visit Rebecca's on-line store click here.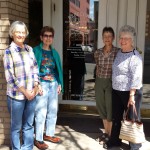 Medicine Man Marijuana Dispensary Tour – Denver
This is one of the biggest growers in the metro area. No matter what your feelings on the subject, it is fascinating to see the facility. They employ several botanists as well as other gardening experts.
To visit Medicine Man Dispensary click here.
The Aquaponics Source Tour – Longmont
Aquaponics is the union of aquaculture (raising fish) and hydroponics (the soil-less growing of plants) that grows fish and plants together in one integrated system. You can grow just about any sort of food. Besides things like lettuce, basil, tomatoes, spinach and green beans you can also produce carrots and potatoes. It's an indoor system, and you can grow year round. It's a completely organic system. It not only produces fresh veggies for your diet but also fresh fish.
To visit the Aquaponic Source click here.
2014
Heritage Lavender Farm Tour – Berthoud
This month we visited the Heritage Lavender Farm in Berthoud.  We enjoyed a tour and tea.  The 30-minute tour of the lavender fields included an explanation of the various plants (600) and varieties (30) in the garden. After walking the fields, we enjoyed a glass of iced tea or lemonade and special culinary lavender delights.  Information was shared about the many uses of lavender, how it is harvested, and how essential oils are distilled.
July, Hoe and Hope 50th Anniversary Celebration – Boulder Country Club
The club shared a wonderful meal, good conversation and the many memories that fifty years can bring.  Past presidents gave anecdotes of their time in office.  The tables were set with beautiful flower center pieces made by Hoe and Hope members. Kay made a gorgeous flower arrangement for our "history" table.  Helen crocheted an heirloom "Hoe and Hope" wall hanging for this special event.