Hoe and Hope Garden Club Community Involvement
2021
We encourage every member to sign up for one or several civic projects.  This year we continue with the following projects:
Callahan House – Melissa Welsch, Karen Janata
Central Elementary – Robin Ecklund, Sally Bootz
OUR Center – JoAnn Dinser, Dudley MdBride
Rose Garden – Betsy Imig
2020
In spite of this curious time of Covid, we continued to beautify our community through gardening projects at Callahan House, the OUR Center, the Rose Garden and a brand new project at Central Elementary School.
2019
2018
Rocky Mountain National Park – August 29
Members of Hoe & Hope Garden Club went up to Rocky Mountain National Park to transplant little seedlings in individual pots. These seedling will grow big enough to plant in various areas in the park.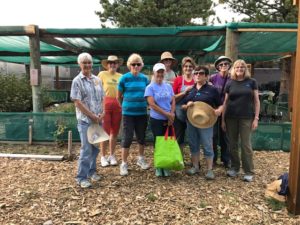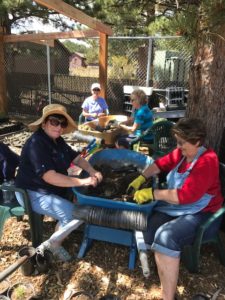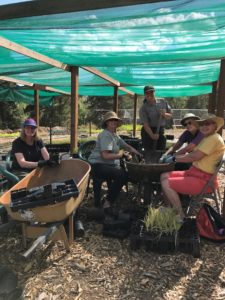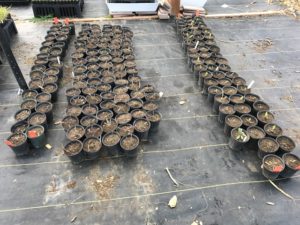 The Sandstone Ranch – June 25
Plants were carefully selected and purchased using Civic funds by Team Leader Sandy and  Jan.  Gathering a small but enthusiastic crew, the planting was done a couple of days later.  Sandy's husband Jim was also quite helpful digging large holes for the new perennials…sorry ladies, he is not for hire…he does dig a great hole though…Shasta daisies, purple cone flowers, red rocks penstemon, garledia and clematis now grace the flower beds out at the Sandstone Ranch House.   Great job!
OUR Center – May 31
On a very warm and sunny Thursday morning, Don and Sally and 5 voluteers, Ruth, Janell, Diane, Dee and Art, went over to the Our Center and planted tomatoes and other warm season plants in their vegatable garden. We also presented Dudley McBride of the OUR Center a "Hoe & Hope Garden Club Was Here " garden tile to be placed some where  near the garden. While we were there another group of volunteers came in to do some other volunteer work.
Callahan  House – May 10
On Thursday, May 10th, Darlene and her ladies, Ann, Debbie, Mindy, and Rita met at the Callahan House to do some clean up and repair of the gardens there. Great job ladies.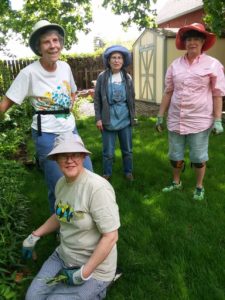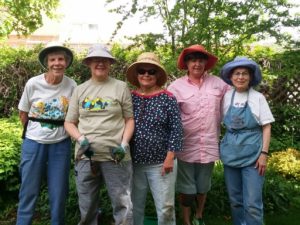 Sandstone Ranch – April 17
On Tuesday, April 17th, eight energetic ladies met at Sandstone Ranch to work their magic.  All of the flower beds surrounding the  house and adjacent to the house were cleared of old foliage.  They also removed plants and weeds that were not wanted and relocated plants to better locations.  The xeriscape garden under went a spring cleaning and part of the lawn was raked.  The ladies had a productive morning before the wind over took the Longmont area.
During the Hoe and Hope volunteers activities out at the Sandstone Ranch, they found one of our tiles that garden club members painted  at one of our members home back in January 2014.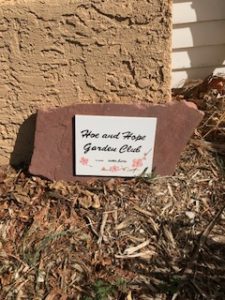 Our Center – April 16th
I t was a beautiful Monday morning when 10 Hoe & Hope Garden Club members went to the Our Center in Longmont, Co. to help plant seeds in a portion of their vegetable garden. We planted snap peas, spinach, onions and radishes. We were done in about an hour. When these garden club members get going, they get going!  At the end of May, we will help put in tomatoes plants.
RMNP Civic Project – April 3rd
Ruth , Sandy , Janell , Ann Marie, Jennifer , Robin , Kathy , and Carla  (left to right) were given the goal to transplant 600 Deschampsia cespitosa seedlings (aka grass seedlings).  We were given the flat of seedlings, instructions  from Sage (see that tiny seedling), and then got right to work.  Four hours later—MISSION ACCOMPLISHED!  These will eventually be planted at a disturbed area at Sprague Lake.
Growing Gardens in Boulder – March 20th 
We came, we saw, we planted bunches and bunches of flats with vegetable seeds so we also conquered.  Sure some seeds were so tiny that a person wished they had brought reading glasses but all in all a fine time was had.  We planted and chatted and planted some more.  We wandered the greenhouse to admire all the sprouting seedlings. If you would like to purchase some wonderful plant and veggie starts the Growing Gardens plant sale takes place at the greenhouse 1630 Hawthorn Ave., Boulder on the first three weekends in May from 8:00am – 4:00pm.  Oh, and then there was the reward at the end of our project – coffee and pastries at Lucky's!  Yum!
2017
In September volunteers got together and did some cleaning up of the gardens at the Callahan House.
2016
Adventurous volunteers from the club made their way up the hill to the green house at Rocky Mountain National park .  With gentle June breezes blowing to help keep the workers cool, over 450 seedling pines were transplanted to larger pots.  These young tree will continue their growth for another couple of years before being planted in the park.
2015
Volunteering at the Rocky Mountain National Park Greenhouse in late August.  We came, we saw, and we conquered a big pile of greenhouse pots and flats!
Spring Cleanup at Sandstone Ranch
A bright sunny day in early April turned out to be  perfect  for our annual clean-up and green-up at Sandstone Ranch.  The gardens surround an historic farm house.
The results of our fall bulb planting at Old Mill Park!
Senior Center Meals on Wheels Centerpieces
Each month Hoe and Hope members get together to create floral centerpieces for the clients of Meals on Wheels to enjoy at their daily luncheons.
2014
Fall bulb planting at Old Mill Park
Over 400 spring blooming bulbs were planted by Hoe and Hope members!
Volunteering at Rocky Mountain National Park
The task for the day was transplanting seedlings for the re-vegetation of Bear Lake Road.