New members are always welcome in Hoe and Hope Garden Club.
Go to our Contact Us page for a membership application.
Hoe and Hope Garden Club, Inc.
Longmont, CO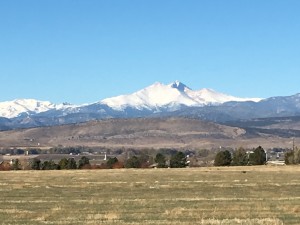 Hoe and Hope Garden Club is located in Longmont, Colorado. The club's objectives are to encourage an interest in all phases of home gardening, plant care, floral decorations, to educate its members in the science and art of horticulture and to be good stewards in our community by giving of our time and talent. The club has been serving the educational and practical needs of gardeners in the Longmont area since 1964.
When Anne Scheierman moved to Longmont from Loveland in 1962, she joined the Newcomers Club and taught gardening classes for two years. She decided to form a garden club with some of her students, naming it Hoe and Hope. The club was organized and affiliated with the National Council of State Garden Clubs, Inc., and the Colorado Federation of Garden Clubs in September 1964. Lois Sturgeon served as the first president of the ten-member club.
Fifty years later Hoe and Hope is still following Anne's lead in teaching and learning with friends made around a common interest. Every month 60+ members, their guests, and visitors meet to learn more about gardening in Colorado. Program speakers give information about flower and vegetable gardening, design ideas, native plants, pollinators, ecology, and other topics. Plant exchanges, field trips to sites of interest, and opportunities to socialize have been highlights of our gardening years.
But Hoe and Hope is not just about its members. Over the decades the club has contributed to the community through civic projects. Locations we have labored include: Callahan House, Rose Garden, The OUR Center, YMCA raised beds, Golden Ponds, Main Street urns, Vance Brand Airport, Old Mill Park, Niwot Elementary School science garden, Rocky Mountain National Park, and Sandstone Ranch.
We also offer a $1000 college scholarship and $500 high school scholarship to students pursuing careers in horticulture or agriculture.  Click on the Resources: Scholarship link for details and applications.
As you can see we are always learning something new and staying active in our community!
We welcome new members and invite you to join our club!
Membership Meetings
The fourth Wednesday of each month
Jan – April and July – Nov,  10:00 a.m.
First Lutheran Church, Longmont.
May – June, 10:00 a.m.
Member's gardens and local parks
Annual Dues
Active members, $25.00
Family membership, $35.00
Hoe and Hope Garden Club, Inc., a 501(c)3 charitable organization, is eligible to receive tax deductible contributions.