Hoe and Hope Student Scholarships
Hoe and Hope Garden Club feels education is important.  Students majoring in horticulture, environmental science, agriculture, landscape design, forestry or related fields may apply for Hoe and Hope scholarships in February each year.  The club will award two scholarships in 2022 – a $1,000 scholarship to a junior, senior or graduate college student and a $500 scholarship to a student graduating from high school in 2022.
Following are the eligibility requirements and application links for these two scholarships.
COLLEGE SCHOLARSHIP
Eligibility requirements for the $1000 college scholarship are:
Resident of Colorado
Sophomore, junior, senior, or graduate student as of February 28, 2020.
Enrolled in a minimum of 9 semester hours
Cumulative GPA minimum of 3.0 on a 4.0 scale (or equivalent)
Area of study must fall within one of the following:  horticulture, environmental science, agriculture, landscape design, forestry or related field.
Click here for the college application and information
HIGH SCHOOL SCHOLARSHIP
Eligibility requirements for the $500 high school scholarship are:
Graduating high school senior
Minimum GPA 3.0
Colorado resident
Click here for the high school application and information
___________________________________________
Application deadline:  February 28
Please send application, 2 letters of recommendation, personal essay and academic transcripts to:
Hoe & Hope Garden Club
c/o Rita Rosson
11753 Ashton Road
Longmont, CO  80504
2021 Hoe & Hope Scholarship Recipients  ~   by Jennifer Lynn
Congratulations to our annual Hoe & Hope scholarship recipients!  Our 2021 winners – yes, we were able to fund awards for 3 high school seniors – each received a $500 scholarship to the college of their choice.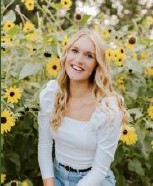 Malia Harton (Mead High School) will be using her scholarship to attend Baylor University this fall. Malia has an entrepreneurial mindset and wants to start a non-profit business or consult with major companies internationally to make a difference for underserved populations. While in high school, Malia organized a letter-writing campaign that personally thanked veterans and educated students on the sacrifices our veterans have made on our behalf. Some of Malia's other notable accomplishments are receiving the "Excellence in Business" award, logging over 760 volunteer hours, being president of YoungLife, UP With People, having the lead roles in The Sound of Music & Beauty and the Beast, holding a first degree black belt in Taekwondo, and graduating with 16 college credit hours while simultaneously working in the family business. Malia shared the devasting story of how her parents' small business has suffered during covid and how valuable every bit of financial help is to them, this year especially.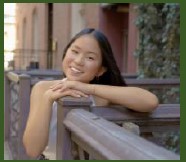 Aurora Rangel (Frederick High School) finds strength in her multiracial identity. Aurora was born 'somewhere in southeastern China', adopted as a toddler and raised in a Mexican-American home. In grade school, Aurora helped care for her mom who lost a battle with cancer. The experience left her thinking she wanted to become a doctor, but through a later family hospital experience, she realized what she really wanted to become was a nurse, as that role is so incredibly integral and impactful to the patient and family. For her senior capstone research project, along with CSU, Aurora designed and modeled cancer-detecting nano-robots. Additionally, Aurora has worked as a counselor-in-training at Camp Kesem (a free-of-charge week-long overnight camp for kids whose parents are affected by cancer), served as president of Key Club (an international service organization for high school students), led projects making literacy kits for low-income children, and founded the Frederick Free Tutoring Program, a free weekly after-school service to help students struggling with online learning during Covid. Aurora has already taken nursing school prerequisite college classes at Aims Community College and will be attending Mount Saint Mary's University in Los Angeles this fall, for their well-recognized nursing program.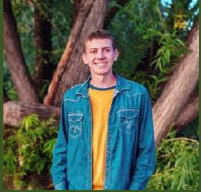 Ethan Ahlstrom (Frederick High School) ranked twelfth in his class of 245 and carried a course load filled with Advanced Placement, honors, and concurrent college courses, all of which he excelled at. An Eagle Scout, Ethan was selected as an ambassador for the Longmont Sister Cities Program with Ciudad Guzman, Mexico. He clearly shone in that role and he has been asked back to be an ambassador to Japan this year. A budding film maker, he placed third at the Denver Student Film Festival. He also worked in the Career Development Center greenhouse in order to complete a Career in Technical Education. These notable accomplishments (amongst so many) are just part of what makes Ethan an admirable young man. Ethan will be using our award to pursue an education in business and agriculture so he can provide employment opportunities for people with special needs, a cause close to his heart. Ethan has already started a few businesses including growing and selling vegetable starts from the greenhouse he built, and a state-registered business selling neck gaiters with high school logos. Ethan will be attending Brigham Young University this fall.
On a personal note, I just want the club to know how wonderful an opportunity it is for us on the scholarship committee to read these applications and learn about the amazing young people in our community! There are so many truly impressive kids in SVVSD and choosing the final recipients(s) is nothing short of painstaking. Your dedication to the club's philanthropic generosity is so important to our local high schoolers and I can assure you that every recipient has sent personal thank you notes requesting me to than the club membership for investing in their future. Thanks you Hoe & Hope and congratulations Ethan, Malia , and Aurora!
Scholarship Recipients For 2019-2020: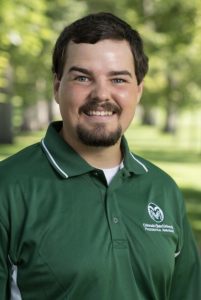 The 2019-2020 Hoe & Hope College Scholarship award for $1500 went to Gus Gill of Merino, CO. Gus is a senior at Colorado State University, pursuing a degree in Agricultural Education. He was actually chosen as the winner of this scholarship last year, but had to decline it due to being awarded a full ride scholarship from CSU! Gus was an exceptional candidate, with accolades including being a state officer for the Colorado FFA (Future Farmers of America), an ambassador for the CSU college of Agricultural Sciences, a CSU Honors student, an intern for the National Western Stock Show Sponsorship and Education Department and serving in the CSU FarmHouse Fraternity, among many others. His goal is to be an agricultural education and FFA advisor in secondary education. Kudos to Gus!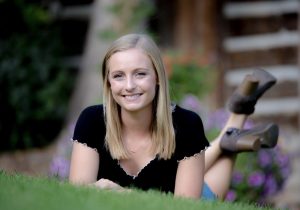 What a challenge it was to choose just one winner from the 18 high school scholarship applicants! These kids were amazing. The $500 scholarship this year went to Logan Kuskie of Longmont! Logan is attending Minnesota State University at Mankato where she is studying biology with an emphasis in biomedical science. She plans to continue on to grad school and pursue a career in healthcare. Logan was very involved in school activities at Lyons Middle/Senior High, (track & field, state champion pole vaulter, Student Body Secretary and National Honor Society to name a few), has extensive community service (Lyons Garden Club, Colorado Therapeutic Riding Center, and Habitat for Humanity Rebuilding St. Vrain just for starters), and carried a perfect 4.0 GPA while concurrently working as a Physical Therapy Assistant and Receptionist and babysitting on the side! Logan is a not just an obviously hard worker and dedicated athlete but shows herself to be a young woman of truly upstanding character, as confirmed by her letters of teachers and employers. Best wishes for your future Logan!
Previous Scholarship Recipients:
2018
    College–Walter Nieuwlandt  $1,500
    High School–Blake Hubert  $500
2017
    College–Walter Gibson Nieuwlandt   $1,000
    High school–Stephanie Bushnell  $500
2016
    College–Nathan Scott Goddard  $1,000
    High School–Reese Glenn Barracks  $500
2015
    College–Kyra Monique Czerwinski $1,000
    High School–Forrest Wold-McGimsey–$500
2014
    College–Matthew Michael Bombard  $1,000
Scholarship Policy of the Hoe and Hope Garden Club in Longmont, Colorado
In the event of:
A change in major other than listed above

Student drop out from school

Student is no longer a resident of Colorado before the end of the term covered by this scholarship

Student is no longer eligible to receive scholarship money
Scholarship funds are to be returned to Hoe and Hope Garden Club, Inc. located in Longmont, Colorado.