Letter from the President, June 2022
I hope all of you have managed to keep your plants alive during our ridiculous heat wave. Although I spent many years in New England where water from the sky is a regular event, it hasn't taken me long to come up with ideas to both conserve water and to come up with other sources of water for my plants. I keep a dishpan in the sink so every time I just rinse my hands or an apple, the water is collected. Once a day – or more frequently I either pour into a gallon jug or just take out to water pots or plants. Let me know if you have other ideas – would love to hear them.
On that subject, Melissa introduced us to the High Plains Environmental Center in Loveland which had a fascinating array of plants that can thrive here. Certainly worth visiting if you weren't with us.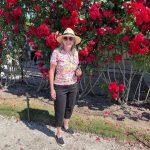 I am looking forward to hearing from those of you who went to one (or perhaps more) of the great garden tours that have been happening. I missed a couple due to my 2 yr. delayed trip to Europe. Although it was not specifically a garden tour, I do seem to manage to find flowers if they're around (fortunately, those rulers liked their gardens). And there are still a couple tours this month, so hope to get to those.
See you at the Niwot Homestead Farm the 22nd.
Connie