2018
JULY
Rob Proctor Garden Tour
This tour Lakewood garden tour is usually the last weekend in July.  Proceeds go to benefit The Denver Dumb Friends League.  The 1905 Victorian house was purchased in 1993.  The garden plans were drawn on a cocktail napkin…let the games begin!
The garden is mostly a series of perennial borders in the English countryside style.  There is a mixture of old-fashion perennials, oddballs and even some rare plants in the borders.  While beauty is the prim objective, the garden was planned to make a good habitat for bee, birds, butterflies, bats and dragonflies.
Pots are everywhere.  Annual, topicals, bulbs and succulents vie for attentions.  The unused gravel driveway became a "border" composed entirely of pots backed by dwarf fruit trees.  These containers demonstrate that nearly everything can be grown in a pot.
Hundreds of pots of topicals are moved inside for the winter and are housed on the closed in front and back porch.  Cannas, dahlias and other summer bulbs are allowed to frost and are then dug and stored in the basement.  Cuttings of annuals are rooted and grown under lights in the basement.
Rob's across-the-alley neighbor's garden was also on the tour this year.  A dog run and gravel driveway have been transformed into an incredible array of plants all busting with color.  Her main annual is dahlias.  A father-daughter team works to keep this garden beautiful.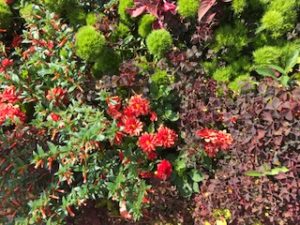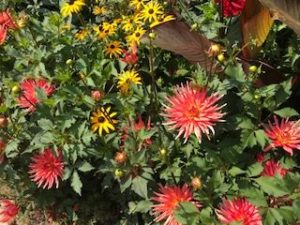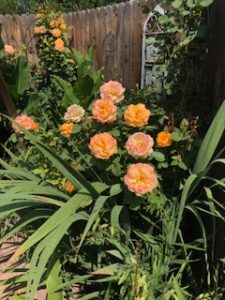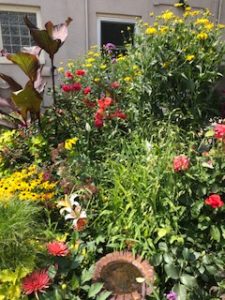 The garden club in Evergreen hosts a garden tour every other year the 3rd Saturday in July to raise funds for their community projects.  Each garden is lovely and with the beautiful Colorado mountains as a backdrop, they become stunning.  Every garden has some type of waterfall feature.  Most of the leaf bearing trees need to have protection so the elk do not eat the bark.  If you want to grow vegetables in the high county, an 8 to 10 foot fence is a must.  For flower gardening as well, fencing is a must. As you can see from the pictures art plays a huge part in accenting the beauty of these high altitude gardens.  Such beautiful flowers – so much to see!
JUNE
 It was a beautiful breezy mid-June morning in Estes Park and we were fortunate enough to visit Robert's amazing peony garden.  The step gardens were built by hand and shovel by Robert and his twin brother in 2002.  Large boulders were carefully placed and a drip irrigation system was added.  Fencing around young peony plants is essential to keep snoopy elk from pulling the shrubs up for investigative purposes.  Deer and elk usually will not bother the mature peony shrubs.  The peonies are so lovely to view against the magnificent backdrop of the Rocky Mountains.  Many paths lead you to new and exciting discoveries.  Along with opening his gardens for our viewing pleasure, Robert will also send you home with a beautiful bouquet of cut peonies to enjoy!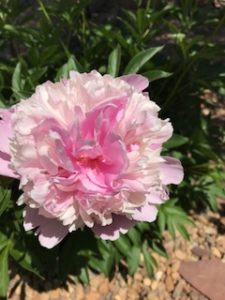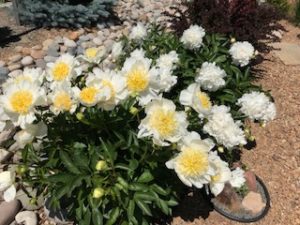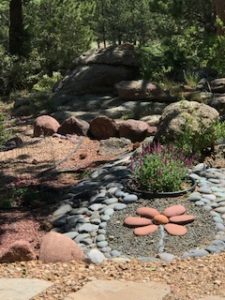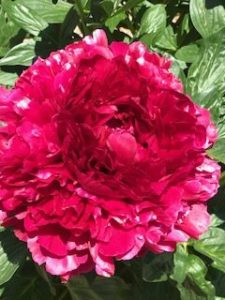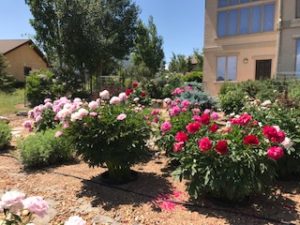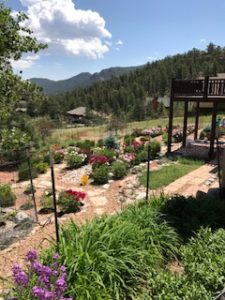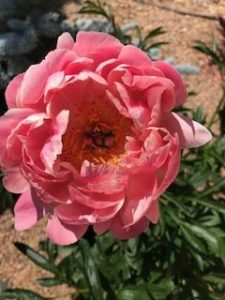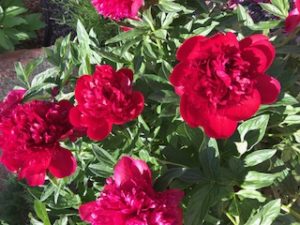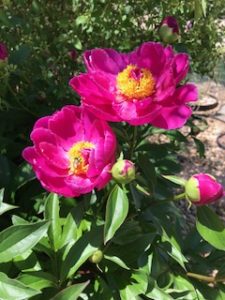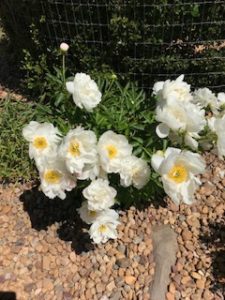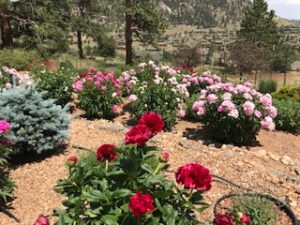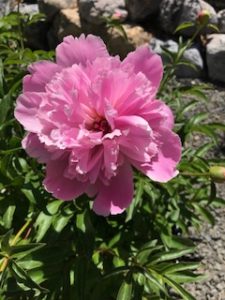 What a wonderful day for a garden tour!  The Longmont Symphony Garden tour featured 6 wonderful Gardens this year.  Beautiful flowers awaited visitors along with lovely areas to enjoy the view.  So nice to have an opportunity to chat with fellow gardeners and the homeowners.  Compliments all around!  Ponds, waterfalls and even a sunken patio were viewed with pleasure.  The wide variety of roses were simply stunning.  So much to see!  A wonderful opportunity for any gardener who enjoys snooping about…and who doesn't love to do just that?!
The Times Call snapped a picture of Polly and Judy from Hoe & Hope while they were touring one of the homes.
2017
JUNE – Our meeting was held at the gardens of the Northern Colorado Water Conservancy District. We learned about water resource development in northern Colorado and the impact of the Colorado-Big Thompson and Windy Gap Project. We also toured their demonstration gardens.
JUNE – In June, the Hoe & Hope Garden Club visited 3 local Gardens. The first tours on June 3rd were THE BOULDER GARDEN TOUR
and the THE WHITTER-MAPLETON TOUR
The second tour was THE LONGMONT SYMPHONY GARDEN TOUR on June 16 and 17.
The third tour was the PAT HAYWARD GARDENS  in Masonville, Co. south of Ft. Collins on  June 17.  Pat recently retired as Director of Plant Select.  Her gardens are a mix of Plant Select plants, a wide variety of conifers along with colorful annuals that seed out each year.  Several beds in her garden are only watered by Mother Nature. 
2016
OCTOBER – It is mid October and we still have not had a hard freeze. Donald loves to garden. He can't wait until December 21st to dance naked in his gardens to celebrate the days starting to get longer. By April he is ready to put his clothes back on and start planting and planting. Donald loves to  grow flowers and vegetables in the ground. He also loves container flower gardens and hanging baskets .
JULY – Surrounded by beautiful shade trees, the garden club enjoyed our July meeting at Vivienne's gorgeous and well tended gardens.   Large grassy areas invited us to wonder and explore.  Many varieties of flowers were in bloom, even in the heat of July, and a new shade garden was recently added to the front of her property. Vivienne, thank you for a glorious morning spent admiring your gardens!  We also appreciated the spectacular job all the hostesses did providing us with brunch!
JUNE – Gardens are especially lovely in June.  Hoe and Hope members and their guests were invited to Heather's family farm house to enjoy the beautiful property that nestles quietly in our busy town.   Flagstone walkways and patios lead you to her herb and vegetable gardens.  Patios are graced with comfortable conversation areas.  Her green house keeps fresh herbs growing throughout the year – Heather especially enjoys using these for her Thanksgiving stuffing!  The garden walkways are adorned with many unusual geological wonders – really cool rocks – thanks to her husband's work as a geologist.   Heather, we appreciate you sharing your home with us!
JUNE – Spring blooms just a little later up in Estes Park.  Late June is prime peony season at Robert's garden.  Peonies are his passion and he has spent years cultivating a wonderland using this beautiful shrub.  Each season when the peonies are at their peak, he shares the beauty of the blooms, his gardening knowledge and the breathtaking scenery that surrounds his mountain property.
2015
Sven's Garden – Gaynor Lake
Gaynor Lake, located east of 95th Street on the south side of Oxford Road, is one of two "prairie potholes" found in Boulder County. It is a natural lake, with no natural surface water inlet or outlet.  Homes with beautiful gardens surround this private lake.
2014
Hoe and Hope Garden Tour
Denver Botanic Gardens – Chihuly Exhibit
Denver Botanic Gardens presented the Rocky Mountain Region's first major outdoor exhibition of artwork by celebrated American artist, Dale Chihuly. Chihuly's sculptures – ranging in size and form – added bold colors and dramatic beauty to the Gardens' 24-acre urban oasis.
Chihuly is credited with revolutionizing the Studio Glass movement and elevating the perception of the glass medium from the realm of craft to fine art. He is renowned for ambitious architectural installations around the world, in historic cities, museums and gardens.
Northern Colorado Water District Gardens
Rock Garden Society Tour – Fort Collins
The Rocky Mountain Chapter, organized in 1976, is one of 35 chapters of the North American Rock Garden Society (NARGS).  Most members of our chapter live along the eastern base of Colorado's Rocky Mountains – a unique area for cultivating alpines and other rock garden plants.  The climate, altitude, sunlight and soils of the Front Range are conducive to growing a wide spectrum of rock alpine plants from around the world.
This chapter, with nearly 300 members, welcomes new rock gardeners.  The group includes novices as well as professional and skilled amateur rock gardeners, botanists, horticulturists, plant propagators, garden designers, professional flower and garden photographers, artists, and writers.