TREES THAT GROW IN OUR GARDENS
HOE AND HOPE GARDEN CLUB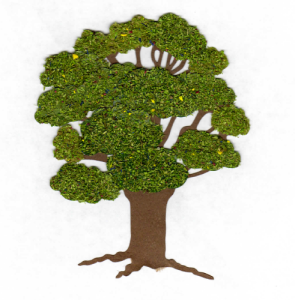 Golden Rain Tree  –  Koelreuteria paniculata

Polly P.'s Golden Rain Tree in front yard.  Lovely in bloom, and
properly named, but then heavy pods develop and she has them pruned off.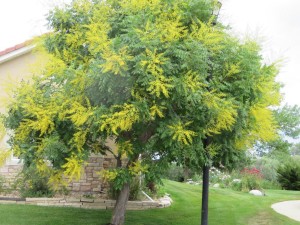 Click here for more information on the Golden Rain Tree.
Littleleaf Linden –  Tilia cordata 'Greenspire'

This Linden is in Lu P.'s yard.  Linden trees are grand deciduous trees that can grow up to 130 feet tall.  They feature highly distinguishable leaves that are heart-shaped and asymmetrical.  The species also bears tiny pea-shaped fruit that hang from a greenish-yellow bract and contain many seeds.  Other noteworthy characteristics of the Linden tree include:
Flowers: Fragrant yellow flowers appear in the summer and attract numerous bees.  

Shape: In their youth, Linden trees have a pyramidal shape, though as the tree grows, it develops a more rounded crown.

Bark: The Linden's gray to brown bark is soft and malleable, while the grain is straight.  The Linden is a sturdy tree, however, given how long it takes to mature, it is not recommended to homeowners looking for a shady yard in a short amount of time.
Click here for more information on the Linden.
Adirondack Crabapple – Malus 'Adirondack'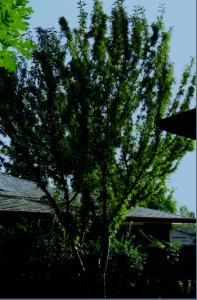 The Adirondack crabapple is a sun-loving tree and adapts well to drought.  The tree in this picture, in Joan C.'s landscape, has reached its maximum height of 15 feet.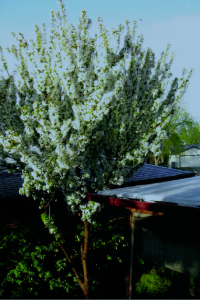 In the spring it has an exuberant display of white blossoms and in the fall there is a wealth of crabapples that vary in color from orange to deep red.  The birds love these trees and often build nests in them.  The tree is planted on the south side of the house and is protected  by a cedar fence.  It is watered two to three times per week with a soaker hose.  It is a low maintenance tree requiring an occasional trimming of suckers and raking of leaves and fallen fruit.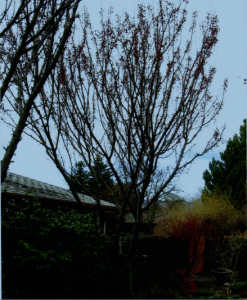 Fall and winter
Click here for more information on an Adirondack crabapple.
English Columnar Oak –  Quercus robur Fastigiata
This oak has medium drought tolerance and a medium growth rate in our zone (5).  It can grow 30-50 feet tall and 9 feet wide.  This canopy tree enjoys sun and has no flowers.  It keeps leaves all winter long so it is good for spaces that you want to block a view or help mitigate noise.  It has no fall color as the leaves turn from green to brown with the frost and cold weather.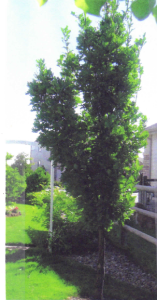 Columnar Oak in Joan E.'s yard          .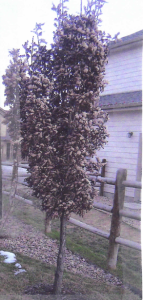 Click here for more information about the English Columnar Oak.
Toba Hawthorn – Crataegus x mordensnsis 'Toba'
The Toba Hawthorn is hardier than some of the other Hawthorns.  This tree was  introduced by the Morden Station of Manitoba, Canada.  It is a small, thornless, deciduous tree.  It bears fragrant, large, double white flowers in the spring that turn to pink.  The foliage is glossy and bears 1/2 inch red fruit.  The dark green foliage turns to yellowish-brown in the fall.  A unique feature of this tree is that the trunk is somewhat twisted.  Toba has a broad, upright habit that is rounded, has silver gray bark on twisted branches, and is site adaptable.
Spring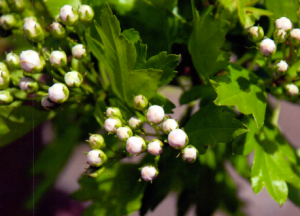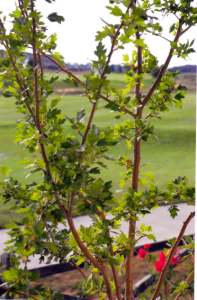 Summer
  Fall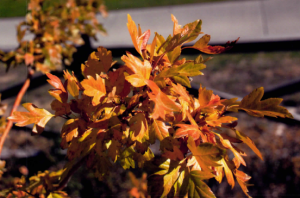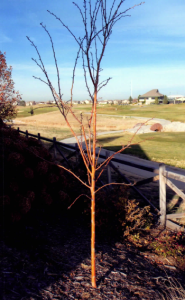 Winter in Joan E.'s landscape.
Spring flowers on the Hawthorn and summer color from Gail Z.'s garden.
Click here for more information about the Toba being a host for the Juniper/Hawthorn rust.
Honeylocust, Thornless – Gleditsia triacanthos inermis
This Honeylocust is a fast-growing tree with fragrant spring flowers from May to June.  The tree also produces large brown seed pods (that can reach 8 inches in length) resembling twisted leather straps.  The delicate silhouette lets grass grow underneath.  In the fall the tiny leaflets turn yellow or yellow-green.  It is pollution, salt, and drought tolerant and adapts to a wide range of soil types.  This sun-loving tree will grow to 30′ to 70′ and spread 50′.  (Zones 3-9)
The pictures below are from the garden of Ruth M.  The two Honeylocust were given as gifts to Ruth's parents in the late 1960s.  The small one in front was planted in 2004.
Spring                                               Summer
Fall                                                    Winter
Click here for more information on Honeylocust diseases.                                                                                                            
Radiant Crabapple – Malus 'Radiant' 
The ornamental crab Radiant will grow to the height of 20 feet and a width of up to 30 feet.  The spring leaves are a reddish purple and turn green in the summer.  Also in the spring deep red buds are formed and open to a profusion of dark pink blossoms followed by small, 1/2 inch red fruits.  The birds, especially robins, love these fruits.  This crabapple prefers sun and does not thrive when overshadowed by taller trees.  It is, however, prone to apple scab and blight.  It grows quickly and needs pruning to keep a good shape.
From the garden of Diana J.
Spring blossoms                            
Summer                                       Winter
The Canada Red Chokecherry is know for its resistance to drought and disease.  Its leaves in the spring are green and gradually turn to a deep purple and remain that color until the leaves drop in the fall.  Also in the spring, the tree produces beautiful white flowers with a sweet aroma.  The flowers then turn into tiny dark purple fruit.  The expectant height is 25 to 30 feet with wide sprawling branches.  Often found to be a nuisance is the continual suckering at the base of the tree.
A Chokecherry in Diane J.'s landscape
Spring with the aromatic flowers
Summer                                           Winter
Click here for more information about this chokecherry.
Autumn Blaze Maple – Acer x freemanii  'Freeman Maple'
The Autumn Maple is a hybrid with its best traits coming from the Red Maple and Silver Maple.  It is insect and disease resistant.  This maple is a fast grower reaching 50 feet in height and 30 feet wide when mature.  Occasionally it needs branch trimming.  The size of the tree provides wonderful summer shade and the stunning red/orange fall leaves provide a great addition to the compost pile
.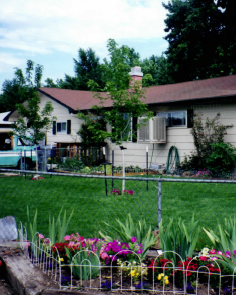 2 year old trees in Helen B.'s garden (1999)
Brillant fall colors                                                The trees in winter
Click here for more information about the Autumn Blaze Maple.
Magdalena Wegrzyn wrote an interesting article published in 2012 in the Longmont Times-Call entitled "Longmont's Ten Most Common Trees". Click here to read that article.
THE TREES OF 
THOMPSON PARK
Thompson Park is home to a wide variety of tree species, making it unique to Longmont's park system.  There are over 182 trees in this five-acre park, representing 74 different species and varieties.  Diversity will remain a priority as new species are added in the future.  Trees shown on the map are identified with a marker, corresponding to the list in this guide, attached to the trunk or branch on the south side of each tree.  Need more information?  Please call Forestry Services at 303-651-8446.  Enjoy your walk through the trees!