2021
Now that many of our members are vaccinated, we will be more active in community gardens this year.  We will take on some beds in the Roosevelt Rose Gardens as well as Callahan House, OUR Center, and Central Elementary.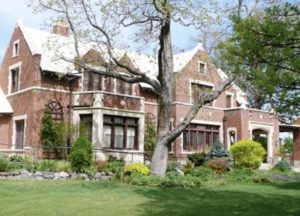 2020
Although our community gardening projects were largely curtailed in 2020 due to Covid, we did create a new garden in the east and south sides of Central Elementary School in Longmont.  It is populated with myriad bulbs and perennials which will look beautiful for years to come.  We also helped out at the OUR Center gardens, and harvested a bounty of vegetables for their kitchen.  Callahan House north bed cleanup is always a favorite, with many members coming to help out.
2019                                                                                                                                           
In the first 2 pictures, on Friday the 24th of May, with the help of Hoe & Hope volunteers, Janell and JoAnn, and Dudley of the Our center, they planted  all  the Growing Gardens donated plants which included  3 variety of tomatoes,  tomatillos,  4 variety of peppers,  cucumbers,  and herbs.
Earlier in May, in Picture # 3 , Don helped with getting the drip system up and running in the garden. He also helped plant a variety of vegetables.
On Monday, April 29th Hoe & Hope members had threatening rain and snow, but these special ladies showed up to to clean up the North flower beds at the Callahan House! Shown below are Jan, Lori Lee, Ruth, Betsy, Mindy,Shirley, and Darlene.
Birdhouse were painted by Hoe & Hope members to be auctioned off by the Wild Plum Early Learning Center so kids on the waiting list could attend school.
2018
                           
At the February Hoe & Hope Garden Club Meeting, the members donated food, blankets, towels, wash cloths, bedding and toys for the Longmont Humane Society. In the first picture, Don and Art helped load every thing up. In the last picture is Linda, our club  president, showing off all of the donations.  A big "Thank You" to the club members for all you did.                                                                                                                                         ———————————————————————————————————–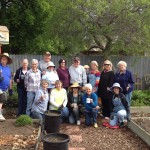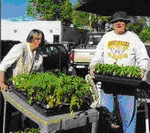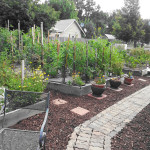 Hoe and Hope members plant vegetable starts at the OUR Center Garden.   The OUR Center helps feed those in need in the community.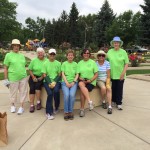 Garden Club volunteers prune hundreds of roses and maintain rose beds seasonally at Roosevelt Park Rose Garden.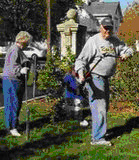 Spring Flower beds are cleaned at historic Callahan House.  Garden beds are planted at Sandstone Ranch Farmhouse – another historic location in Longmont.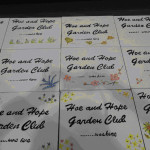 Hoe and Hope members made club tiles to place in public gardens where we help out.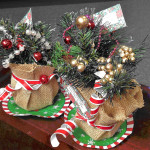 Monthly centerpieces are made for the tables of the Meals on Wheels program at the Longmont Senior Center.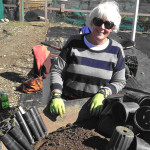 Hoe and Hope members help out collecting native seeds and transplanting natives at Rocky Mountain National Park.